River banks and canals
A brief history
The idea to dig canals and create new waterways first appeared in France around 15th century. This new communication network made it possible to transport goods more easily.
The Canal de la Sarre and the Marne-Rhine canal were built in the 17th century. The first was designed to carry coal from Lorraine to Germany and Alsace while the second was used to supply factories with various goods.
Having witnessed wars and great changes in the world, these waterways have been modified several times over the years. Today, they are enjoyed by boaters who take advantage of river tourism thanks to the renovated waterways and newly laid-out banks.
The Marne-Rhine canal (east)
159 kilometres from Frouard to Strasbourg
The highest lock in France is on the canal at Réchicourt-le-Château
It uses the Saint-Louis Arzviller inclined plane (boat lift)
It crosses the Northern Vosges Regional Nature Park and Lorraine Regional Park
It has 57 locks
The Canal de la Sarre
75.5 kilometres from Gondrexange (France) to Güdingen (Germany)
It is fed by the Saar River whose source is in the Vosges
It flows into the Saar river in Sarreguemines
It was long known as the Canal des Houillères de la Sarre (Saar coal-mine canal)
It joins the Marne-Rhine canal in Gondrexange
It has 30 locks
The "Oh!" moment
In the Terres d'Oh!, the Saint-Louis Arzviller inclined plane (boat lift) receives more than 100,000 visitors a year, between April and October.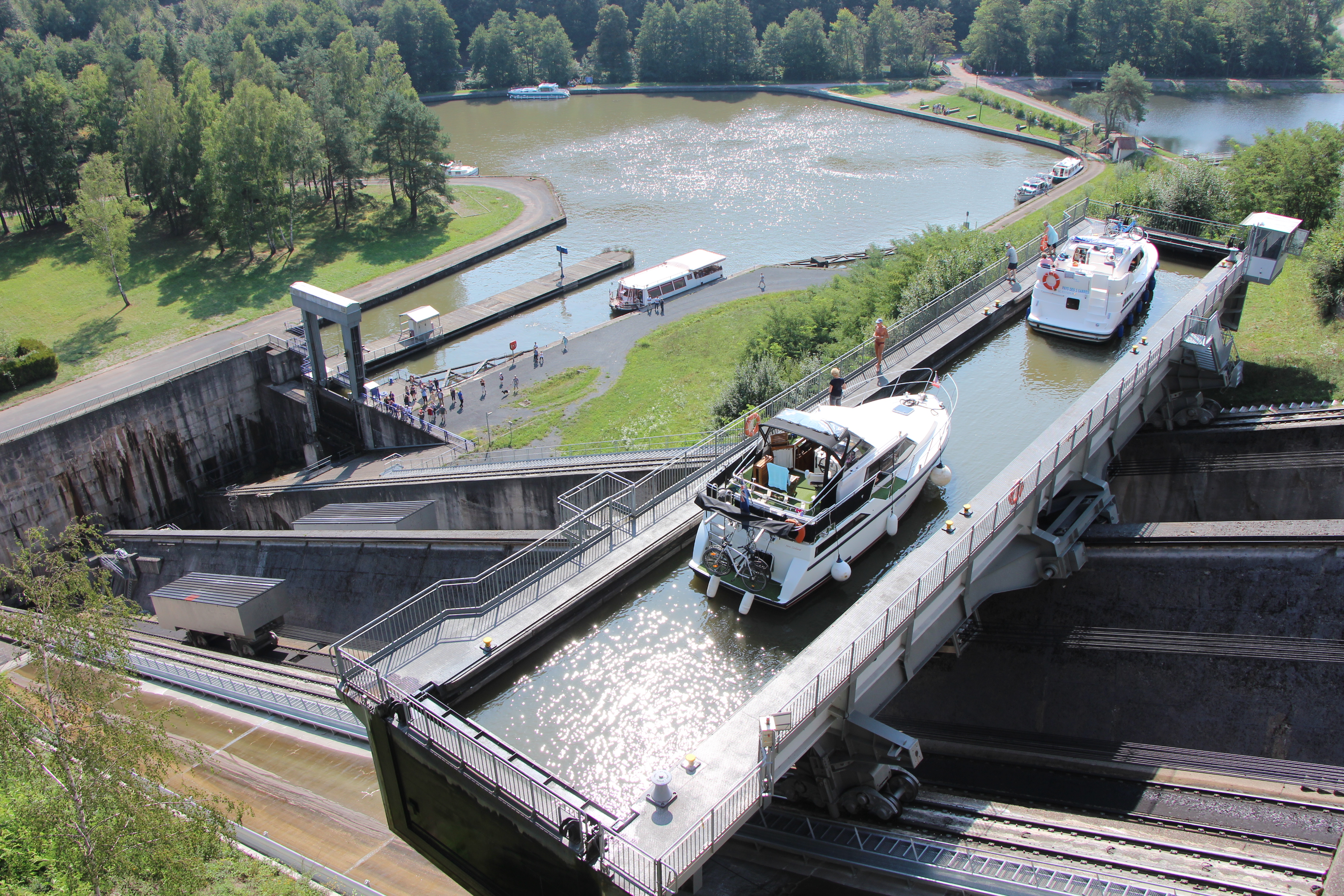 This must-see boat-lift is a unique structure in Europe:
it has been in service since 1969;
it replaces 17 locks;
it takes 4 minutes for a boat to go up the lift;
a difference in height of 45 metres from top to bottom;
it can lift barges of 350 tonnes.
Life on the banks of the canals in the Terres d'Oh!
In the past, horses and men pulled the boats upstream along paths that ran alongside the river. Known as "towpaths", they have been laid out for cycling and walking today.
Signs on the river banks provide valuable information about the history of the Terres d'Oh!
"Bernard, we are in the flooding dock. Get ready, I can see the mooring dolphin!"
Patrick is not crazy. He is simply pointing out to Bernard that they will be able to moor the boat and attach it to a post in the water.
Boaters use a specific vocabulary when they sail in the Terres d'Oh! To have a better understanding of the terms and not feel completely lost, here is a small lexicon of common terms.